Posts for: January, 2015
By One Dental Care - Kunio Chan, DMD, MAGD
January 29, 2015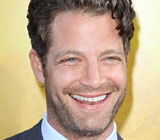 As one of America's most beloved go-to guys for inspiration on the latest interior design trends, Nate Berkus has written a highly successful book, Home Rules: Transform the Place You Live Into a Place You'll Love; he is a contributing editor to O Magazine; and he is currently hosting his own television program, The Nate Berkus Show. He is also recognized for his eye-catching smile.
During a recent interview with Dear Doctor magazine, Berkus opened up about the facts behind his trademark smile. While his smile is all-natural — he never wore braces or had any cosmetic work done — he gives credit to his childhood dentist for the preventative healthcare he received as a young boy. "I'm grateful for having been given fluoride treatments and sealants as a child," he said. Nate also shared the important flossing advice he learned from his dentist that he still follows today: "Floss the ones you want to keep."
Why is flossing so important?
Flossing is crucial because it remains the most effective method for removing plaque from between teeth, where the toothbrush can't reach. It is also an important part of keeping your gums healthy so that you can avoid periodontitis (gum disease). You should floss at least once a day either before or after you brush your teeth. If you see blood after flossing, it may indicate that you have periodontitis, or it may mean that you are flossing too harshly. Remember, you need to use a delicate hand and a proper technique when brushing and flossing to avoid damaging your teeth and gums.
To learn more about flossing, including step-by-step instructions with photos, you can continue reading the Dear Doctor magazine article "Flossing — A Different Approach." Or you can contact us today to schedule an appointment so that we can conduct a thorough examination, review your brushing and flossing techniques, and discuss any questions you have as well as treatment options. As needed, we will work with you to teach you the proper brushing and flossing techniques so that you feel confident before you leave our office. And to read the entire interview with Nate Berkus, please see the Dear Doctor magazine article "Nate Berkus."
By One Dental Care - Kunio Chan, DMD, MAGD
January 14, 2015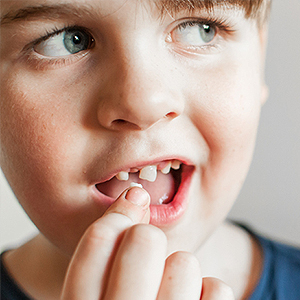 Ah, the baby teeth: those cute little pearl buttons that start to appear in a child's mouth at around 6 to 9 months of age. Like pacifiers and bedtime stories, they'll be gone before you know it — the last usually disappear by age 10-13. So if the dentist tells you that your young child needs a root canal, you might wonder why — isn't that tooth going to be lost anyway?
The answer is yes, it is — but while it's here, it has some important roles to play in your child's development. For one thing, baby teeth perform the same functions in kids as they do in adults: Namely, they enable us to chew, bite, and speak properly. The primary teeth also have a valuable social purpose: they allow us to smile properly. If a baby tooth is lost prematurely at age 6, the child may suffer detrimental effects for five years or more — and that's a long time for someone so young!
Even more important, baby teeth have a critical function in the developing mouth and jaw: Each one holds a space open for the permanent tooth that will eventually replace it — and it doesn't "let go" until the new tooth is ready to come in. If a primary (baby) tooth is lost too soon, other teeth adjacent to the opening may drift into the empty space. This often means that the permanent teeth may erupt (emerge above the gum line) in the wrong place — or sometimes, not at all.
The condition that occurs when teeth aren't in their proper positions is called malocclusion ("mal" – bad; "occlusion" – bite). It can cause problems with eating and speaking, and often results in a less-than-perfect-looking smile. It's the primary reason why kids get orthodontic treatment — which can be expensive and time-consuming. So it makes sense to try and save baby teeth whenever possible.
Procedures like a root canal — or the similar but less-invasive pulpotomy — are often effective at preserving a baby tooth that would otherwise be lost. But if it isn't possible to save the tooth, an appliance called a space maintainer may help. This is a small metal appliance that is attached to one tooth; its purpose is to keep a space open where the permanent tooth can come in.
If your child is facing the premature loss of a primary tooth, we will be sure to discuss all the options with you. It may turn out that preserving the tooth is the most cost-effective alternative in the long run. If you have questions about your child's baby teeth, please contact us or schedule an appointment for a consultation.